David Reeves has composed for theatre, stage, concert hall and church. He warms particularly to vocal textures in the Cathedral and large Choral traditions. The musical spirit in his organ and piano (jazz) performances as a young performer seems to have infiltrated into nearly all his compositions as a mature composer.
His catalogue includes opera, oratorio, musicals, orchestral and chamber compositions as well as commercial music composed electronically. His work has been seen and heard on stage and in churches, concert halls and festivals.
Reeves began his professional career as a concert organist in the early sixties, turning to conducting, composing and producing some ten years later.
Reeves' style is theatrical and filmic, symphonic and homogenous. His work celebrates lyrical and linear melodic phrasing and he tends towards rich orchestration, seeking out all the colours and textures available. His approach to the human voice is similar and he reaches out to the full range and tones of the artists and choirs for which he writes. His leaning toward the classical and romantic is evident but always contemporary and never far away from Broadway.
This album is taken from THE MUSICALS Album One.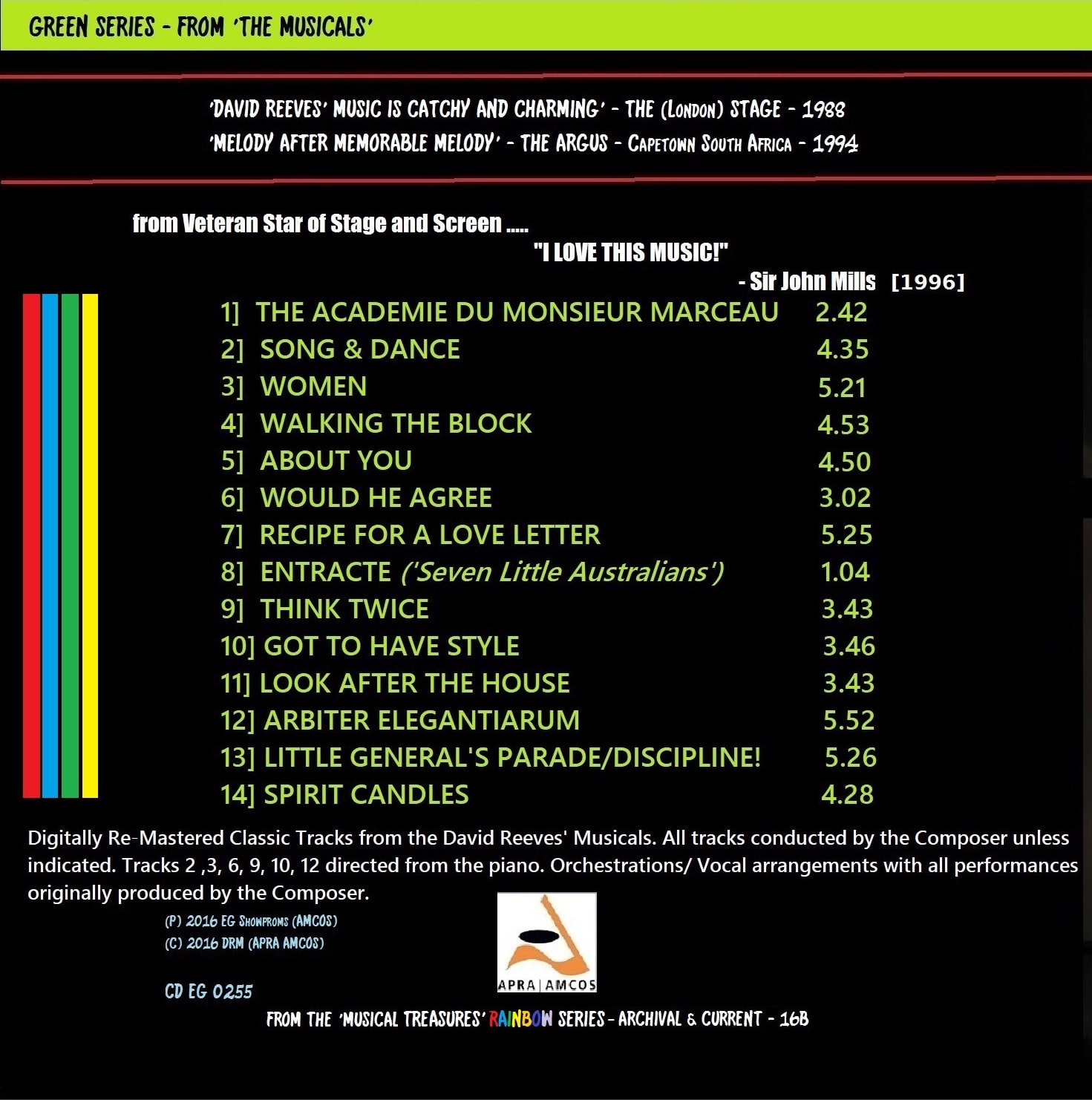 Track List
| | | |
| --- | --- | --- |
| | 1. | The Academie Du Monsieur Marceau |
| | 2. | Song & Dance |
| | 3. | Women |
| | 4. | Walking The Block Seven Little Australians |
| | 5. | About You Penny Hay Version |
| | 6. | Would He Agree Best |
| | 7. | Recipe for a Love letter |
| | 8. | Entracte (Seven Little Australians) |
| | 9. | Think Twice |
| | 10. | Got To Have Style |
| | 11. | Look After The House |
| | 12. | Arbiter Elegantiarum |
| | 13. | Little Generals Parade/Discipline! |
| | 14. | Spirit Candles |
"David Reeves' music is catchy and charming." – 'The (London) Stage' 1988
"Melody after memorable melody." – 'The Argus' Capetown South Africa 1994
From Veteran Star of Stage and Screen… "I love this music." – Sir John Mills 1996