The original recording has been extensively re-mastered and restored. Originally recorded by 2MBS FM radio live at the Great Hall, Sydney University in 1986.
The work is in three movements:
| | | |
| --- | --- | --- |
| | 1. | Maestoso Spirito |
| | 2. | Andante Affettuoso |
| | 3. | Allegro Grandiose Agitato |
The theme in the second movement went on to become the duet between Christian and Cyrano in Reeves' Opera/Musical Cyrano de Bergerac which premiered in Brisbane in 1992. It was performed by Simon Gallaher and Normie Rowe at QPAC.
This work was performed on the magnificent Rudolf von Beckerath Organ in the Great Hall of Sydney University in 1986.
Track List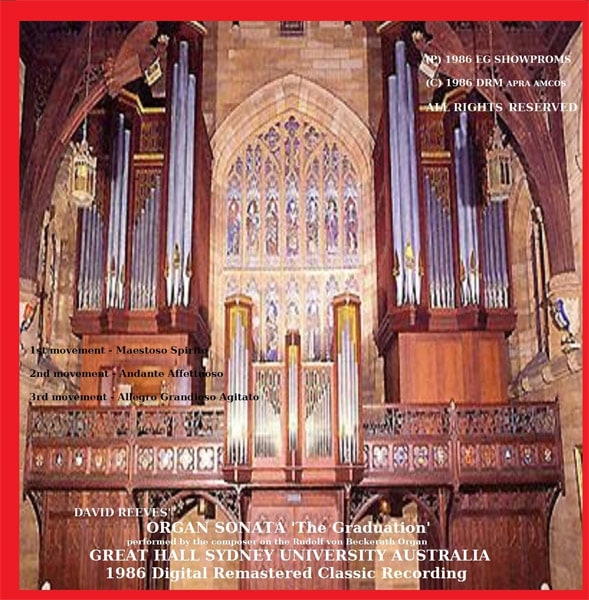 Reviews
"He reaches out… within the Australian repertoire, Reeves' sonata is very significant… a sparkling performance!"
– Norman Johnston, University Organist, Sydney University (1986)
"Probably the most important organ work written in this country, so far, anyway."
– Stuart Challender, Chief Conductor, Sydney Symphony Orchestra, interview in Performing Arts Magazine, Australia (1987)
Production
Please note that this recording has been made from the original. Due to its significance, every effort has been made to recreate the performance within current technology and at all times preserve its integrity. One or two minor imperfections remain in the first movement, but they do not impair the appeal of the work or this reproduction in any way.