---
Studio recording of the oratorio 'Becket.
The Kiss of Peace' was recorded at CTS Studios Wembley, Middlesex in December 1999.
Featuring
Archbishop Thomas Becket – Tenor Phillip Slane
King Henry 11 – Bass David Wilson-Johnson
Herbert of Bosham – Counter tenor James Bowman
Matilda (one of the people) – soprano Constance Novis
Chorister (one of the children) – Boy soprano Harvey Brink
Mary (one of the people) – Soprano Gillian Keith
Organist – Sir David Willcocks with the English Chamber Singers & English Festival
Orchestra conducted by Dr Martin Neary
Track List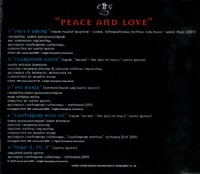 THE PLOT

1.
"Welcome""

2.
recit: "My Lord, the King in his wisdom"

3.
Chorale "Canterbury, Holy See"

4.
recit "My Lord, I must see you"

5.
"The People's Lament"

6.
recit: "So Proud you are"

7.
Chorale "Canterbury, Holy See"

8.
recit "Peace at Last"

9.
Aria "The Kiss of Peace"

10.
Chorus "Welcome"

11.
Aria and Chorus "The Lord's Prayer

12.
Hymn "In the Name of the Church in England"

13.
Duet "Holy Day"
THE MURDER

14.
recit "But WHO will make silent?"

15.
Solo and Chorus "Peace, peace, what does it mean?

16.
"All of us must die"

17.
Chorus "All of us must die"

18.
Prayer "God's Will be done"

19.
Chorus "Come down, traitor"

20.
Prayer "Now to Almighty God"

21.
Instrumental "Murder!"
THE OUTCOME

22.
Aria "Clarendon Sleeps"

23.
Chorus "Clarendon Stained"

24.
Chorus "Scourge"

25.
Solo "Thomas, I grant you…"

26.
Chorus Finale "The Kiss of Peace"

27.
Amen [sixteen parts]
Reviews for Becket
"In the 'Kiss of Peace' the gifted Australian composer, David Reeves, has produced a score which judging by the response of the singers and instrumentalists who recorded it in London, England, will give great pleasure to choral societies and audiences around the world"
– Sir David Willcocks – former Director of Music King's College,
Cambridge and former Conductor of the London Bach Choir.
"A very clever score"
– Dr Martin Neary – Organist and Master of the Choristers,
Westminster Abbey, London.
"The work features themes up there with Elgar, Vaughan Williams and Parry"
– James Bowman – International Counter-tenor
"The new recording of the David Reeves – Becket oratorio is truly a masterpiece"
– Brendan Walsh – 2MBS FM – Radio Australia