---
The original vinyl disc of this inaugural recording of Sydney Town Hall's famous 'Hill' organ was recorded and released in 1971.
Organist and Master of the choristers at St Andrew's Cathedral wrote in his original review, "David Reeves is one of the comparatively rare capable improvisers in our country. Here we have a remarkable and imaginative performance of Lisztian brilliance in a palatable contemporary style".
Conductor Richard Thew wrote of the David Reeves recording of the Grand Organ at the Sydney Town Hall in 1971, "A world Class production. Displaying to full advantage the tonal resources of this King of instruments. A brilliant example of virtuosity".
Originally recorded in the Sydney Town Hall July – August 1971
Track List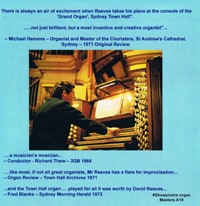 Track List
| | | |
| --- | --- | --- |
| | 1. | Prelude in C Major |
| | 2. | Fugue in C Major |
| | 3. | Prelude in G Major |
| | 4. | Fugue in G Major |
| | 5. | Sonata in Eb Minor 1st Movement |
| | 6. | Symphony No 5 1st Movement |
| | 7. | Improvisation on Theme |