"SEVEN LITTLE AUSTRALIANS" was created by composer David Reeves from Ethel Turner's classic best-seller Seven Little Australians and premiered in 1988 at the Comedy Theatre, Melbourne, Australia.
Classic tale taken to heart by young and old since 1894, turned into film in 1939, television series 1973 and the acclaimed stage musical premiered in 1988. The book translated into nine languages, never out of publication in over a hundred years.
A powerful love story between an inhibited father and a very uninhibited daughter, told through song and dance. The show broke new ground and was at the forefront of home-grown Australian shows being fully accepted by mainstream audiences.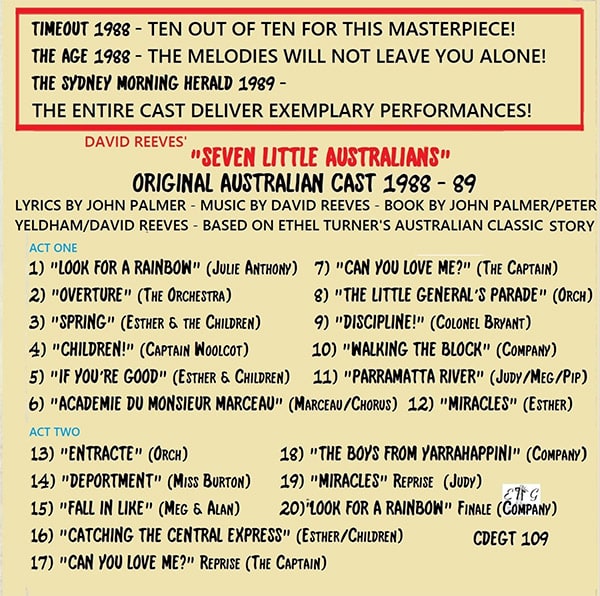 Track List
| | | |
| --- | --- | --- |
| | 1. | Look For A Rainbow |
| | 2. | Overture |
| | 3. | Spring |
| | 4. | Children! |
| | 5. | If You're Good |
| | 6. | The Academie Du Monsieur Marceau |
| | 7. | Can You Love Me? |
| | 8. | The Little General's Parade |
| | 9. | Discipline! |
| | 10. | Walking The Block |
| | 11. | Parramatta River |
| | 12. | Miracles |
| | 13. | Act Two Entracte |
| | 14. | Deportment |
| | 15. | Fall In Like With You |
| | 16. | Catching The Central Express |
| | 17. | Can You Love Me? Reprise |
| | 18. | The Boys From Yarrahappini |
| | 19. | Miracles Reprise |
| | 20. | Look For A Rainbow Finale |
REVIEWS
Time Out wrote, "Ten out of Ten … Reeves has come up with a masterpiece in this genre." – 'Time Out' 1988
The London Stage wrote, "David Reeves' music is catchy and charming. Pamela French has choreographed some boisterous, show-stopping production numbers … In almost thirty years of theatre going down under this reviewer has never seen a local musical with more potential for overseas production." – Raymond Stanley – 'London Stage' 1988
The Sydney Morning Herald wrote, "Seven Little Australians, composed and created by David Reeves from the novel by Ethel Turner is certainly an achievement within that home-spun, folksy style of musical, most recently seen in 'Big River' with which it compares favourably … The comic numbers such as 'L'Academie du Monsieur Marceau', 'Deportment' and 'Discipline' have a tempo and a narrative thrust that support vibrant dance routines. Perhaps best of all are, 'Catching the Central Express' – featuring kids and chorus, and 'Boys from Yarrahappini' – a real woolshed hoedown. 'Seven Little Australians' wears its heart on its sleeve, a polished, engaging family show." – Bob Evans – 'Sydney Morning Herald' 1989
Melbourne Herald review wrote, "David Reeves' racy new production as a musical is the tale of the seven unruly Australians, their military father and his young wife Esther nursing doubts about her marriage to an older man. They share the finest duets, 'Look for a Rainbow' and 'Can you Love Me'." – David Matthews – 'Melbourne Herald' 23 June 1988
The Age added, "That Turner conveniently killed off Judy provided a surge of real emotion assuring her of a permanent place in the affections of (the audience). Seven Little Australians is pretty to look and listen to, (the melodies will not leave you alone when you leave the theatre). It is fresh, funny, and perfect family entertainment." – Helen Thomson – 'The Age' June 1988
Sydney's Sunday Telegraph wrote, "From the first burst of colour on stage, it's obvious Seven Little Australians will be a delightful way to spend the next few hours." – Bronwen Gora – 'Sunday Telegraph' 24 September 1989